Written by: Mary Schenkel
April 21, 2023
VeroNews.com
The ladies of Indian River Impact 100 had difficult decisions to make after hearing the impassioned presentations from representatives of 11 nonprofits before voting to award five of them with $100,000 transformational grants.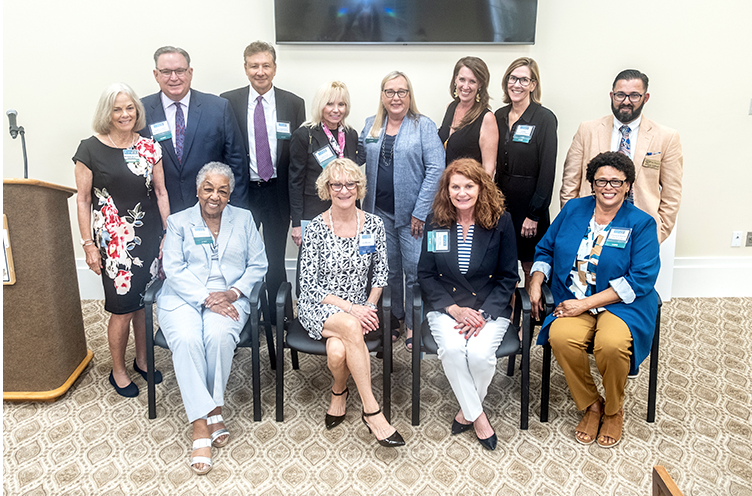 At the conclusion of the Impact 100 annual meeting at the Oak Harbor Club, the Gifford Youth Orchestra, the Learning Alliance, the Senior Resource Association, the Source and the Whole Family Health Center were selected to be the newest Impact 100 Community Partners.
"This is the most exciting day of the Impact year," said outgoing president Mary Ellen McCarthy, describing the decisions made that day as being important for the entire community.
"At PNC we really do value our communities and support organizations like Impact 100 that are doing work to transform our communities," said last year's president Tracy Sorzano, a representative of presenting sponsor PNC Private Bank.
"It is a great day today for Impact 100; it's a record-breaking day," said Suzi McCoy Shriner, president elect, before presenting flowers to McCarthy for her tireless dedication to Impact 100.
Before introducing each of the nonprofit presenters, Liz Locke, chair of the grants committee, recognized members of her team for their hard work over the past eight months.
The grant awarded to the Gifford Youth Orchestra, which is celebrating its 20th year, will be used to create an Audio, Recording and Communications Studio in a newly constructed Music Center, due to be completed by April 2025.
"What I'd like you to picture today, is a recording studio being used 24 hours a day by students from all of the nonprofits in Indian River County," said GYO founder Crystal Bujol, who imagines a future where people can ask 'Siri' or 'Alexa' to play pieces recorded by local children and adults.
The Learning Alliance grant will fund a Moonshot Lab School and Hub for Teacher Training initiative, toward their Moonshot Moment goal of having 90 percent of children read at grade level by the end of third grade.
In a partnership with the school district, Debbi Arseneaux, TLA learning and arts integration manager, said they will develop a center for innovation and professional development and add an arts integration coach to their imbedded literacy coaching team, providing teachers with additional skills to help their students learn to read.
The Senior Resource Association will use the grant to relieve its Meals on Wheels waitlist, expanding the number of clients by purchasing supplies and food, and hiring additional staff to manage the process.
Karen Deigl, SRA president/CEO, explained that the trained volunteers who deliver roughly 106,000 meals a year to 800 seniors, also provide a social connection and wellness checks for their vulnerable charges.
"When we wrote our grant to Impact 100 last fall, there were between 180 and 220 seniors on the waitlist," said Deigl. "I need to inform you, sadly, the number has grown to more than 300."
The Source, which provides meals, shelter and employment to the county's homeless population, received a grant for its Dignity Wellness program, to provide mental health training and outreach.
Charlene Morris, mental health counselor, said that to provide daily mental health counseling, they will implement a nationally recognized Mental Health First Aid training program, where staff and volunteers will be trained to identify, understand and respond to a mental health crisis or someone developing or experiencing one.
The Whole Family Health Center, a nonprofit community health provider that offers adult and pediatric medical, mental and oral healthcare, will expand access to care with a WFHC Mobile Medical Office.
Many of their patients are low-income, said Dr. Gerald Pierone, founder and chief medical officer, and have transportation and/or mobility issues, so this will enable them to diagnose, test and treat patients where people live, including at nonprofits such as the Hope for Families Center.
"By expanding medical services in our community, we're going to alleviate health care disparities in our community," said Pierone.
The remaining $70,900 was distributed equally to the merit award winners: Ballet Vero Beach, Fellowship Initiative for Dancers Expansion; Bike Walk IRC, Wheels on Wheels Initiative; IRC Healthy Start Coalition, Fatherhood Initiative; Junior Achievement of the Palm Beaches and the Treasure Coast, Jr. Achievement-From Youngsters to High School Graduates; McKee Botanical Garden, Nurtured by Nature; and the Vero Beach Theatre Guild, Theatrical Learning Center.
For more information, visit Impact100IR.com.