Laurence Reisman | 04 May, 2021
Florida vaccination rate lower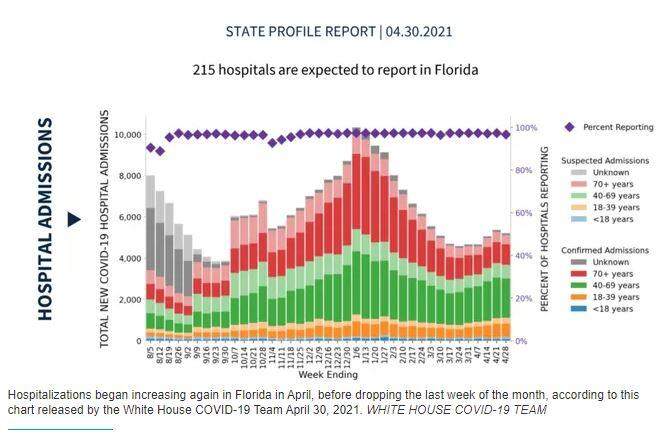 Then again, Florida, despite its large number of seniors, ranks only 36th in the nation among the percentage of residents fully vaccinated, at 29.86%, according to Becker's Hospital Review. Nationally, 31.6% were fully vaccinated, with Maine first at 40.17% and Alabama last at 23.77%.
Florida has been a vaccine laggard before. From 2017-2020 it was last in the nation for the percentage of residents getting flu vaccines, 40.3%, the Naples Daily News reported.
Ramgopal and Dr. Gerald Pierone, chief medical officer and founding physician of Whole Family Health Center, with offices in Fort Pierce and Vero Beach, have noticed better conditions locally.
Pierone has a spreadsheet showing the COVID caseload the last week of April down as much as 83% since a peak the first week of January. The recent numbers are comparable to what was seen last June and July.
Volume is down based on the number of monoclonal antibody infusions his office has been doing to treat recently diagnosed older patients, he said.
"We were averaging two monoclonal antibody infusions a day in January, now it is about one every other day," he said in an email. "This reflects the fewer cases in older people because of the vaccine rollout."
Treasure Coast hospitalizations down
Ramgopal said he's seeing a quarter of the number of hospitalized patients he saw at the peak. Now they're younger, often less severe and unvaccinated.
"The good news is that cases are not going up in spite of the dominance of the B117 more transmissible variant in Florida," Pierone said. "If you look at Canada you can see the impact of this variant and how they are suffering because of their vaccine delays."
Fewer folks are interested in clinical trials at Pierone's research facility, which has participated in trials for various COVID-19 treatments such as Camostat pills, inhaled interferon, intravenous and intramuscular monoclonal cocktails.
"Some don't feel sick enough to bother, others are generally apprehensive about investigational options," he said. "Others decline because of the possibility of receiving a placebo."
Ramgopal's office on Monday began recruiting patients to participate in trials of antiviral pills he said could be available by next year. He did not know which brand of medication a patient might receive.
Anyone interested in clinical trials can call Pierone's office at 772-978-9556 or Ramgopal's at 772-595-9830 (email: info@midwayresearch.com).
To read the full article: https://www.tcpalm.com/story/opinion/columnists/laurence-reisman/2021/05/04/feds-florida-covid-hot-spot-tc-stats-better-experts-say-opinion/4927172001/